This beautiful, traditional holiday apartment is situated in a quiet green surrounding on the hills overlooking
Rapallo
, which can also be reached by foot in a few minutes time.
Since the second half of the 19th century the city of Rapallo has been a famous seaside resort and popular with visitors from all over Europe. It has managed to keep this charme up to our times, being still nowadays a renowned destination for foreign and Italian visitors.
The town lies right in the heart of the Ligurian Riviera. This position offers the possibility of a great variety of excursions, trekking on the nearby hills and destinations along the see shore, like Cinque Terre, Camogli, Portofino, Portovenere, Santa Margherita and Genova, that can be reached easily and quickly by car, bus, train and boat.
Casa Ledner offers 140 square meters of distinguished comfort for 6 persons in a holiday apartment, which has been privately owned by the same family since three generations. The exterior of the apartment consists of a magnificent and generously cut southwest terrace overlooking Rapallo. It is located on the first floor of a white, three-storey building from the early 50's, which has recently been fully restored. The apartment is centrally heated in the winter months, can be comfortably lived in all year long and is traditionally a smoke free home.
The apartment has a private garage for one car of medium size.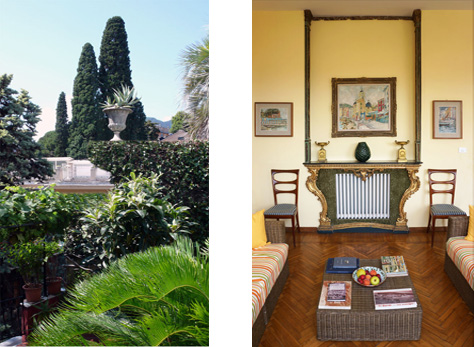 The interior
offers living space for up to six persons; two double bedrooms, one single bedroom, a spacious living room with dining facilities, a large kitchen, two bathrooms and a reading room, leading to a comfortable breakfast terrace which lies directly above the main terrace.
The terrace
represents an example of a Mediterranean garden, with a variety of botanical species and an extended vineyard on two levels, creating shade in the hot Summer afternoons. You will find next to the vine small palm trees, bouganvilles, citruses, jasmines, oleanders, hydrangea and magnolias. The terrace also hosts two collections of agaves on the South side and of ferns on the Northern side.